ALTHOUGH THEY CAN'T SPEAK, OUR PETS WANT TO COMMUNICATE WITH US IN THEIR OWN WAYS. WANT TO KNOW WHAT YOUR PET'S BEHAVIOR MEANS? READ ON BELOW TO GET SOME INSIGHT INTO WHAT YOUR PET IS ACTUALLY TRYING TO SAY.
Even though we raise our pets indoors and they are properly domesticated, our dogs and cats are still animals by nature, and they have inherent traits and behaviors. However, it is important to know the difference between normal and abnormal behavior. In this article, we will try to differentiate between the two.
NORMAL DOG BEHAVIOR
DIGGING
Digging is innate in dogs. Whether your canine digs soil in your backyard or acts like he's digging into your sofa, it is an act that is written in his/her DNA.
PANTING
Dogs, unlike humans, only sweat through their foot pads. Because of this, they expel their body heat and regulate their body temperature through panting.
READ ALSO: Beware of Heat Stroke in Dogs and Cats!
STRETCHING
How often do you see your dog stretching? Fido only does this with people s/he's
comfortable with. Apart from stretching his/her muscles, it's also a way for your dog to say hello,
SHRINKING
It's easy to tell when your pet is uncomfortable. S/he may shrink away from a stranger, or cower behind you. Similarly, your dog's ears may be backward or flat against his/her head.
BARKING
Barking is doggy language, and your canine's way of communicating with you. It can be a means for your furball to signal danger. However, excessive barking may become a nuisance. You can talk with a reputable dog trainer to help you, if ever this becomes an issue.
HOWLING
This act may also be deeply embedded in your furball's genetic code. But when it becomes chronic, you may need to seek help from a dog trainer to help with the problem.
PLAY BOW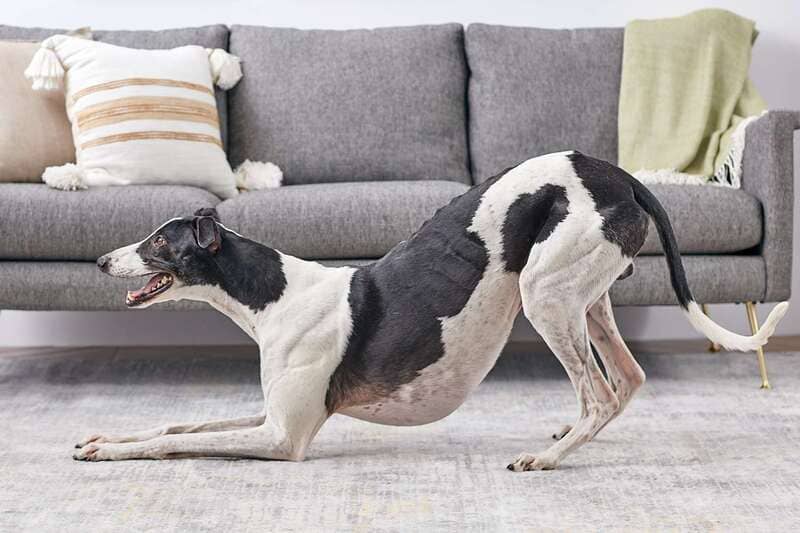 An Action that means let's play, is inherent in all dogs. When your dog does this and his/her body language is loose and relaxed, s/he is inviting you to play. Canines also exhibit this with other dogs.
PREY BOW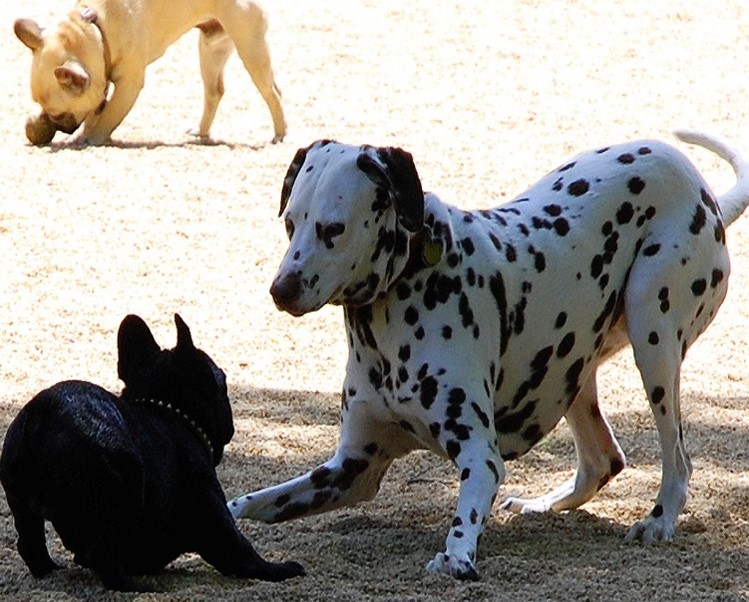 Slightly different from the play bow, this action is not followed by a pause and the dog's elbows remain off the ground. This can be a sign of tension or may show that playtime has turned to something a bit more aggressive.
ABNORMAL DOG BEHAVIOR
URINATING
If your dog is housetrained, then s/he should not be urinating anywhere s/he pleases. When you see signs of urination throughout the house, your fluffy friend may be telling you something. The dog may have a urinary tract infection, or a bladder/kidney problem.
SCOOTING
When you see Fido dragging his/her bum across the floor, it could be a sign of an irritation. This is not normal and when seen in your dog, should be an indication that s/he should make a visit to the vet.
HEAD PRESSING
This is one action that should be considered an emergency. A dog does not normally press his head on a wall; it could be a symptom of toxic poisoning or possible brain disease.
BITING
In young pups, nipping or gentle biting may be prevalent because their teeth are still coming in. However, biting in adult dogs, especially those who have undergone training is something out of the ordinary.
JUMPING
People jump and dogs do too, But there's a big difference. Jumping for people is usually a sign of happiness or excitement; for dogs it may be their way of trying to exert their dominance over you. Therefore, this behavior should not be tolerated, and must be curbed before it becomes a problem.
YAWNING
Yawning may seem like your puppy is sleepy but it may also be triggered by a new person which your pet is not comfortable with. The yawning may be indicative of fear or stress, hence, do not force the introduction.
SHAKING
Even in humans, shaking is not normal. For dogs, shaking is usually associated with fear.
NORMAL CAT BEHAVIOR
SCRATCHING
Cats are natural scratchers, it's in their blood, and a way for them to maintain their claws. In addition, it's also a way for kitties to mark their territory. So it would be advisable to provide your feline friend with a scratching post, let s/he choose your sofa or curtains for scratching.
GROOMING
It's natural for cats to groom themselves, and they may not take well to bathing.
GIVING GIFTS
Because felines are hunters, sometimes they may like to offer you a portion of their prey. This is normal. Just don't forget to get rid of the dead rat (that your kitty presented to you) later on.
MEOWING
This may be a way for your cat to get your attention, But meowing non-stop may mean something else. It may be a sign of illness.
ABNORMAL CAT BEHAVIOR
MISSING THE LITTER BOX
Cats usually find it easy to relieve themselves in their litter box. However, if your kitty is peeing elsewhere, there may be a number of reasons behind it. S/he may have a urinary tract infection which prevents him/her from making it to the box in time. Or, your cat may not like the litter you have provided.
NO APPETITE
Inappetence in cats may be due to pain or other factors. Stress, changes in routine, a different cat food or environment could also cause this.
LETHARGY
Cats may seem less energetic than dogs, however, they normally exhibit some sort of activity throughout the day. If you notice that your furry one is not moving for more than a day, then it could mean s/he may be sick.
VOMITING
Your feline friend may expel hairballs, but vomiting frequently or gagging may be due to more than just fur. If your cat stops his/her normal routine such as eating, drinking and going to the litter box, then you should take your little one to the vet right away.
Like people, our pets also have feelings. They may get depressed, or may be stressed because of a recent move, or a change in the household. Being observant and keeping track of your pet's behavior will duly inform you of what's normal or not. Anything outside of your dog or cat's usual antics can be a cause for concern. To be on the safe side, you may visit the vet if you notice any changes in your pet's behavior.
By Maria Zarah Gregorio Viado